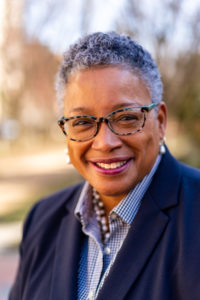 The TEAK Fellowship Names Dr. Denise Brown-Allen As Executive Director, Effective July 2021
March 15, 2021-The Board of Trustees for The TEAK Fellowship, a New York City nonprofit organization, announced today that it has appointed Dr. Denise Brown-Allen as Executive Director, effective July 2021. Dr. Brown-Allen will succeed John F. Green, who was instrumental in leading TEAK for the past six years through a strategic growth plan to increase enrollment by 50% over the next several years. John will remain with the organization to support Dr. Brown-Allen during the transition phase.
TEAK is a free program that helps talented students from low-income families achieve their potential. Through intensive after-school and summer classes, TEAK prepares middle school students to get into and thrive at the nation's most selective high schools and colleges. TEAK's robust support system ensures that students graduate ready to pursue their professional goals and positively impact the world.
Dr. Brown-Allen brings over 25 years of experience as an educator and senior administrator at Montclair Kimberley Academy, the Pingry School, and the National Cathedral School.  In each of these roles, Dr. Brown-Allen has demonstrated an exceptional commitment to her students and has dedicated her life to creating educational opportunities and school communities that welcome diversity and empower our youth. Dr. Brown-Allen's leadership will be instrumental in supporting our Fellows and their families, as well as our staff and alumni, as we move forward into the next chapter of TEAK.
"We welcome Dr. Brown-Allen, fondly known to many as DBA, to our Fellowship," said Marc Becker, TEAK Board Chair. "For over two decades, TEAK has unlocked the potential of motivated scholars, something DBA's entire career has been dedicated to. We could not think of a better person to lead our next chapter as we aspire to transform as many lives and lift up as many communities as possible," said Becker.
"I am both honored and excited to accept the position of Executive Director of the TEAK Fellowship. As a daughter of educators, I was raised to value education. I understand there is a correlation between excellent education and better health, and higher quality of life. Every child deserves an excellent education. The pandemic exposed many inequities in our country, and the inequity in access to quality education is one of the more pronounced. I am honored to join TEAK as the Fellowship's values align with my personal commitment to students and service to our community."
Dr. Denise Brown-Allen is the proud product of parochial schools from grade school through college. She obtained her bachelor's degree in Mathematics from Seton Hall University before beginning her corporate career in information systems with New Jersey Bell. While employed with Bell, she earned her Master's in Business Administration in Marketing at Fairleigh Dickinson University.
Dr. Brown-Allen transitioned into her second career, teaching, when she joined The Montclair Kimberley Academy (MKA) faculty in Montclair, NJ. She began as a math and computer science teacher and ultimately served as Mathematics Department Chair, where she spent the next 15 years. 
Dr. Brown-Allen returned to Seton Hall to work toward her doctorate in educational leadership and administration, which she completed in five years while working full-time. Her dissertation, "A Quantitative Descriptive Study of the Academic Achievement of Black Students in Nonpublic Secondary Schools," examined the achievement gap between black and white students in nonpublic schools.
In July 2009, Dr. Brown-Allen took the position of Upper School Director at the Pingry School in Martinsville, New Jersey. In 2016, she accepted the call to return to her roots in single-gender education. She will be leaving her current position as the Associate Head of School/Head of Upper School at the National Cathedral School in Washington, DC to join TEAK.
Dr. Brown-Allen and her husband, Douglas, are proud of their two grown sons, Daniel, a graduate of the University of Virginia, and Dorian, a graduate of Dartmouth College, who have successfully embarked on their respective careers. Dr. Brown-Allen enjoys spending time with family, discovering new hiking trails, a good book, and long days on the beach on Martha's Vineyard.
The Board of Trustees engaged the national search firm Spencer Stuart and launched the Executive Director search in November 2020. After comprehensive interviews with the TEAK staff, trustees, and other stakeholders, the firm developed a position specification. TEAK is grateful to the Trustees comprising the Search Committee for their thoughtfulness and commitment: Jill Borst, Jared Hendricks, Jason Caldwell, Christina Seda, Matthew Stopnik, and Matthew Spiro. Finally, we are forever grateful to John Green for his contributions to the TEAK Fellowship and his legacy of service. We look forward to celebrating his accomplishments later this spring.
For press inquiries or more information, contact: Wyndy Sloan at [email protected] or call (212) 288-6678 x107.