TEAK works closely with each family to guide them through the high school admission and financial aid application processes.
Congratulations to TEAK's 8th grade class for gaining admission to the most prestigious high schools in New York City and beyond.
See where they will be going in the fall.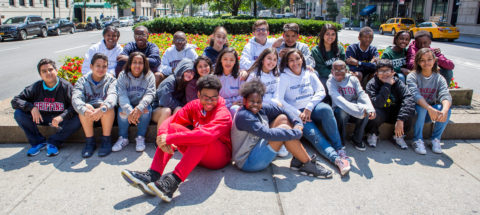 Providing comprehensive support in each student's search for their best high school match, we help with applications, test prep and interview prep, and offer counsel on navigating the choices between selective public, parochial, and independent day and boarding schools. While TEAK does not guarantee that students will be accepted at specific schools, we do provide extensive support and guidance throughout the process and work closely with the schools, students, and families to help students take the next step on their educational journey.
Through TEAK, Fellows have access to selective public, parochial, and independent high school options. In the last sixteen years, TEAK has placed its Fellows at the following high schools:

Boarding Schools
Blair Academy, NJ
Brooks School, MA (2)
Cate School, CA (2)
Choate Rosemary Hall, CT (6)
Concord Academy, MA (7)
Deerfield Academy, MA (5)
Emma Willard School, NY
Episcopal High School, VA (5)
Groton School, MA
The Hotchkiss School, CT (4)
Kent School, CT
The Lawrenceville School, NJ
Mercersburg Academy, PA
Milton Academy, MA (3)
Northfield Mount Hermon School, MA (2)
Peddie School, NJ
Phillips Academy Andover, MA (6)
Phillips Exeter Academy, NH (8)
St. Andrew's School, DE (5)
St. George's School, RI (4)
St. Mark's School, MA (2)
St. Paul's School, NH (2)
The Taft School, CT (4)
The Thacher School, CA
Westminster School, CT (2)
The Williston-Northampton School, MA


New York City Day Schools
The Berkeley Carroll School (6)
The Brearley School (5)
The Bronx High School of Science
Brooklyn Friends School (2)
The Browning School (2)
The Calhoun School
The Chapin School (2)
Collegiate School (2)
Columbia Grammar & Preparatory School (2)
Convent of the Sacred Heart (3)
The Dalton School (2)
Ethical Culture Fieldston School (2)
Fordham Preparatory School
Friends Seminary
Grace Church School
The Hewitt School (2)
Horace Mann School (4)
Little Red School House &
Elisabeth Irwin High School (6)
Manhattan Center for Math and Science
The Nightingale-Bamford School (2)
The Packer Collegiate Institute (3)
Regis High School
Riverdale Country School (6)
Saint Ann's School (4)
The Spence School
Stuyvesant High School
Trevor Day School (2)
Trinity School (5)
Xavier High School (2)

Fun Fact
TEAK Class of 2021 gained admission to the most prestigious private day and boarding schools and earned financial aid and scholarships to cover all costs, totaling $5.5 million over four years.