In the spring of 6th grade, accepted students begin intensive programming to prepare for the high school placement process.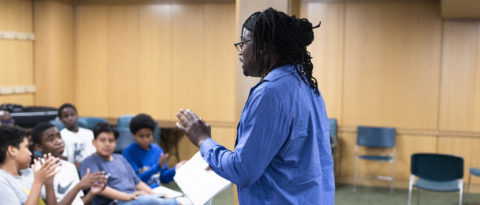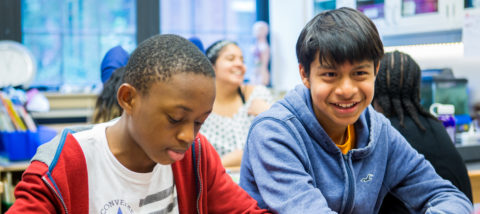 After a competitive six-month admission process, selected students are invited to join TEAK in the spring of 6th grade. On Saturdays during the month of June, newly admitted students participate in Spring Innovation (SPIN), their first exposure to the curriculum and cultural endeavors they will experience as TEAK Fellows. Students then participate in a cycle of intensive academic programs to prepare them for the competitive admissions processes at selective high schools, as well as for future academic success. In addition to academic enrichment, students also gain exposure to the rich cultural and artistic offerings that NYC has to offer through projects and field trips.
High School Foundations I (7th Grade)
---
During the 7th Grade school year students continue their coursework after school and on Saturdays, meeting twice per week. The students are divided between the off-site locations: The Packer Collegiate School in Brooklyn and Fordham Preparatory School in The Bronx. These school year courses in research, writing, Shakespeare, science, and the arts now focus on a more advanced exploration into the content in each offering, as well as student-directed projects such as: scene work, website design, writing portfolio submission, and social justice initiatives.
Summer Institute I & II (Summer After 6th, 7th & 8th Grades)

---
This transformational six-week, full-day academic program is meant to mirror the rigorous and diverse educational environment students will see at some of the best high schools in the country. Through an offering of intensive math, English, Latin, science, and history classes, as well as courses in test prep, high school placement, high school issues, drama and dance, students hone the critical thinking, writing, debate and discussion skills they will need in their educational future. Students also experience field trips; a guest speaker series that features leaders in the fields of finance, journalism/writing, politics, and the arts; and several cultural and community events dedicated to building character, passions, and one's sense of self.
High School Foundations II (8th Grade)

---
These after-school sessions, twice per week, include test preparation for the SHSAT, SSAT, and TACHS, as well as writing and math courses to further develop students' skills in preparation for the rigors of high school.
Mentor Program (7th – 12th Grade)

---
Each student is matched with an adult professional who volunteers to mentor a student throughout his/her Fellowship. Mentors share their knowledge of academic and professional paths, offer exposure to new experiences, and are added advocates in each student's network. Click here to learn more about the Mentor Program, including how to apply to become a TEAK Mentor.