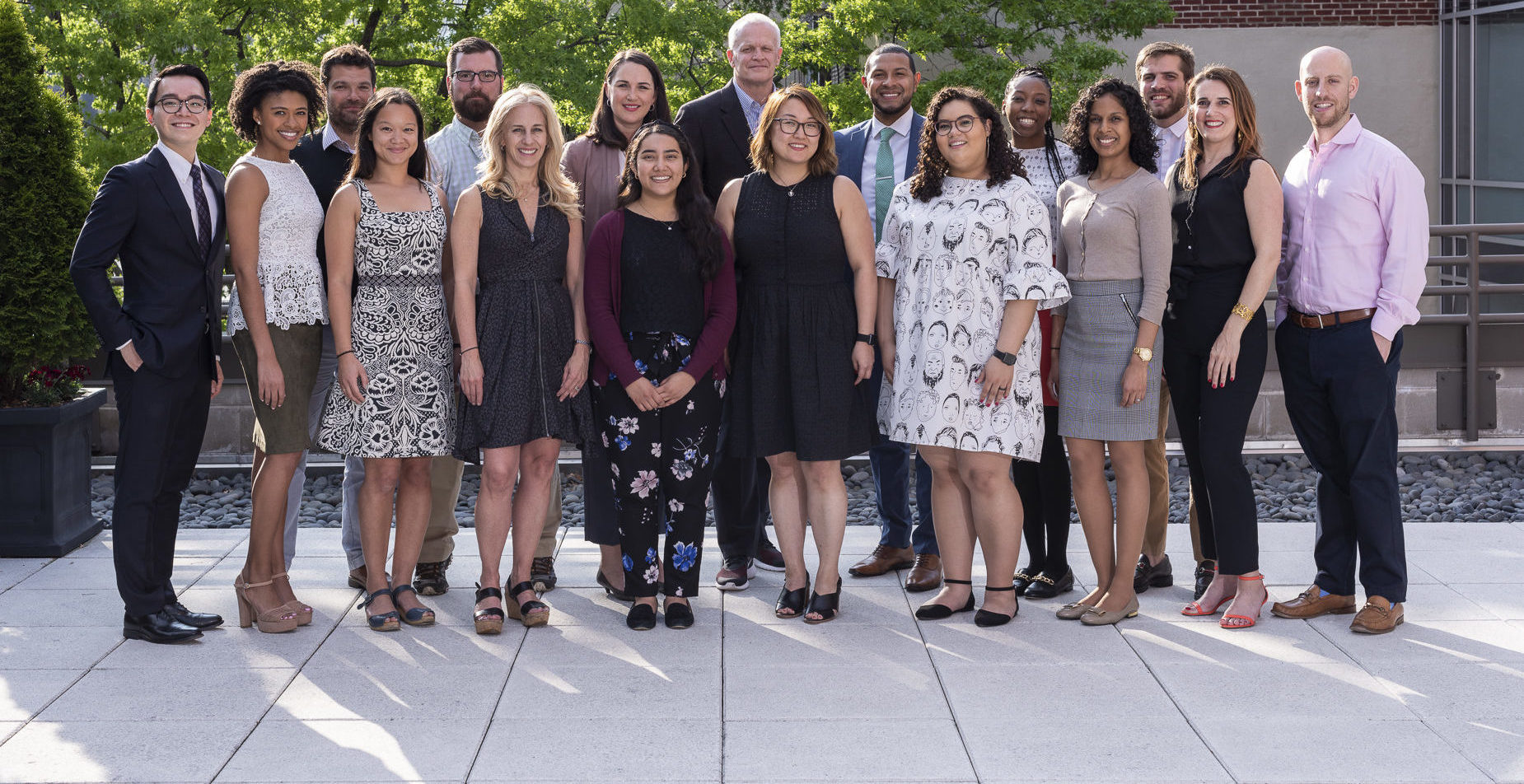 TEAK staff are talented individuals who bring diverse perspectives, breadth and depth of knowledge, and a shared passion for helping bright, motivated students access high quality education and thrive in their educational and professional pursuits. With an open door policy, staff also welcome opportunities to share our experience, expertise, and best practices. Feel free to contact us if you wish to visit the office, discuss particular aspects of our programming, or partner on projects related to our college access and success work.
Daniel Blednick

Director of College Guidance

Daniel Blednick

Director of College Guidance

Dan earned his Bachelor's degree from Amherst College and his Master's degree in Sports Management from the University of Massachusetts at Amherst.  He served as the Assistant Baseball Coach at Amherst College for two seasons, played four years of professional baseball in the German Bundesliga, and also was an assistant coach for the Great Britain national baseball team.  Since joining the TEAK staff in 2006, Dan has guided over 350 TEAK Fellows through the college admission process while helping their families secure more than $75 million in need-based financial aid.  In addition, Dan has completed the Developing Leaders Program at Columbia University School of Business, the Harvard Summer Institute on College Admissions and has presented at many national and regional conferences.  Currently, Dan sits on Policy Boards at both Amherst College and Brown University and has been a frequent contributor to national articles on college access and financial aid.  Dan thinks the Yankees are awesome, is an avid stoop gardener, and can recreate his Italian grandmother's meatball recipe perfectly. 

James Bravo

Interim Director of Admissions; Assistant Director of Student Growth

James Bravo

Interim Director of Admissions; Assistant Director of Student Growth

James Bravo is a graduate from Baruch College/CUNY with a BA in Psychology, where he was also part of the Percy E. Sutton SEEK Program and Urban Male Leadership Academy (UMLA) Scholars Program. James is currently pursuing his Master of Science in Education in Higher Education Administration at Baruch College/CUNY with the vision of continuing to support students of color having equal access to secondary and post-secondary education. James has served as Program Coordinator of the UMLA Scholars program of Baruch College, which entails providing access for Black and Latino, men of color, the opportunity to become leaders in their respective field of interest and communities. James served as Program Coordinator for four years leading projects such as their mentor-mentee program, co-facilitation of their "Brotherhood" workshops, professional development events, and admissions. James has also been fortunate to be a co-presenter at NASPA's 100th Year Anniversary Conference, where the team got to present to a national audience of the UMLA Scholars Program and its best practices. James's transition into TEAK Fellowship continues to support his vision and a personal mission of helping students from low-economic backgrounds have the opportunity to excel academically and professionally.

Oyé Carr, PhD

Senior Director of Middle School Academy

Oyé Carr, PhD

Senior Director of Middle School Academy

Oyé comes to TEAK with experience in the public and private sectors.  A graduate of St. Paul's School and Wesleyan University, Oyé was a founding director of one of the early Summerbridge (now Breakthrough) programs in Portland Oregon before leaving to become a founding teacher at City On A Hill Public Charter School in Boston. Oyé stepped away from education to earn a M.A. in History and a PhD in Comparative Modern African Politics from Boston University. He used this expertise while working for the US Department of Defense as a Senior Research Advisor to US African Command in Djibouti and Germany. At the same time, he and his wife opened MODSquad Cycles, at that point the only bicycle shop available to Harlem residents. Before coming to TEAK, Oyé taught US History at Brookline High School in Brookline Massachusetts and served as Lead Teacher in the African American Latino Scholars Program. Oyé was a Fulbright Scholar, a Boston University MLK Fellow, and is a Fellow of the Institute for the Advancement of Social Sciences at Boston University. He is an avid cyclist and lives with his family in Harlem NY.

Nick Cherico

Director of Career Programs

Nick Cherico

Director of Career Programs

Nick earned his Bachelors degree in Organizational Communication from Xavier University. Upon graduating in 2011, Nick returned home to New York and joined Cristo Rey NY High School as a member of the school's 2-year, Full-Time Americorps Volunteer Program. The program fostered his growing interest in urban education and after it's completion, he decided to remain at Cristo Rey helping to run the school's innovative corporate work-study program. Nick then received his MBA with a dual focus in Management and Communication from Fordham University in 2017, at which point he elected to try his hand in the corporate sector at the Professional Learning and Development company, Mind Gym. His excitement about education remained however and he opted to return to the non-profit world by joining TEAK in September 2018. He is thrilled to be at TEAK as it combines his passion for creating opportunities for underserved communities and his knowledge of New York's corporate landscape. Nick is also a Columbus Citizens Scholar and aspiring Moth participant. He enjoys playing trivia, watching live music, and being active with his dog, Nyla. Most importantly though, he remains an avid supporter of the Yankees and loves nothing more than to discuss (or argue) about the best deli or pizzeria in New York.

Nina Glickman

Director of Student Growth

Nina Glickman

Director of Student Growth

A native New Yorker and the daughter of educators, Nina graduated with a BA in English and Creative Writing from Cornell University in 2004. She began her career in education in the summer of 2008, when she worked as an instructor with Sponsors for Educational Opportunity (SEO). Upon completing her MFA in Fiction in 2010 from The New School, where she won the 2010 Chapbook Award for Short Fiction, Nina pursued a full-time teaching career by joining the New York City Teaching Fellows and earning a Masters in Special Education from Hunter College. She taught Special Education English for three years at a large public high school in Brooklyn, and in the summer of 2013, she moved to Madrid, Spain on a governmental grant, where she taught English language and test prep in the bilingual public schools for the next two years. Nina enjoys cooking, writing, game nights, and seeing the world with her husband, and can proudly complete an entire week of The New York Times crossword puzzles (in pen, of course). 

John Green

Executive Director

John Green

Executive Director

Earning his B.A. from Wesleyan and his Masters in Education from Harvard, John Green brings 35 years of educational experience at some of our Nation's premier independent schools. From 1981-1986, John worked as a teacher, coach, and adviser at the Fessenden School and Western Reserve Academy where he also served as the Director of College Counseling. From 1986-2001, John served as a history department chair, Director of Admissions, Director of College Counseling and a Dean of Faculty at St. Paul's School. From 2001-2013, John served Head of School at Peddie School. From 2013-2015, John worked as a coach and advises independent and residential schools on strategic planning and administrative and board development. Among a wide range of volunteer activities, John has served on the boards of Choate-Rosemary Hall School, Trenton Community Charter School, American Boychoir School, Beech Hill Middle School, New Jersey Scholars Educators Excellence Dedication (SEEDS), and Boys & Girls Clubs of Greater Concord.

Vanessa Greer

Director of College Success and Student Support

Vanessa Greer

Director of College Success and Student Support

Growing up in Brooklyn and attending public school, with a mother who was an educator, Vanessa developed a passion for education. Vanessa earned her BA in Africana Studies with a minor in Education from New York University. After graduation, Vanessa joined AmeriCorps VISTA, where she served at Jumpstart for Young Children in New York City. After her year of service, Vanessa pursued her Master's degree in Social Work from New York University. Prior to joining TEAK in 2014, Vanessa was the Director of The Workplace Mentoring Center at Big Brothers Big Sisters of NYC, connecting at-risk NYC public middle and high school students with highly qualified corporate mentors to help students reach their full potential. During that time, Vanessa completed the Mentor Supervisor Certificate Program through Fordham University in conjunction with Big Brothers Big Sisters of NYC and the Developing Leaders Program at Columbia University School of Business. Vanessa enjoys traveling and learning about different cultures as well as spending time with family, friends, and her adopted dog, Lola. 

Christine Harding

Assistant Director of College Success

Christine Harding

Assistant Director of College Success

Christine's interest in education access, equity and advocacy began at home in Newark, NJ. She earned her BA in Politics and History from Mount Holyoke College in 2016. Following graduation, she returned home to serve as an AmeriCorps VISTA at the Newark City of Learning Collaborative (NCLC). At the NCLC, Christine co-launched the Pathways to Achievement and Success Program during her VISTA year and led the program for the next year and half as the Program Associate. During this time, she also earned her MA in Sociology and Education from Teachers College, Columbia University. Outside of work, Christine enjoys cooking meals for her family and friends, performing improv around the city and spending way too much time on Twitter.

Britni Jefferson

Associate Director of Student Growth

Britni Jefferson

Associate Director of Student Growth

Britni graduated from New York University in 2018 with her Master's degree in School Counseling. While at NYU she got the opportunity to study abroad in South Africa: Educational and Social Reform program, present at the Guidance Expo in Westchester, New York on preventing teen suicide, joined the NYU's Social Sector Leadership Development Fellowship for students of color and served as Co-Chair to Steinhardt's Black Graduate Society. Britni worked at University Settlement as a Service Coordinator to a youth development after-school program. Britni's passion for Youth development developed after she graduated from Syracuse University and started working in the nonprofit sector. She's excited to be working at TEAK and focusing on youth development and preparing them for high school and college success.

Michelle Kim

Director of Business Operations

Michelle Kim

Director of Business Operations

Michelle transitioned from finance to the nonprofit sector, when she joined The Father's Heart as Operations Manager in 2012. While working in the nonprofit sector, she saw the positive impact of education on the trajectory of a student's future. Before joining TEAK, she held a number of roles in nonprofit organizations, most recently with FoodFight as Director of Operations. Prior to joining the nonprofit sector, she was Vice President of Product Management at Deutsche Bank. Prior to Deutsche Bank, Michelle held a number of roles at OppenheimerFunds and Morgan Stanley. She holds a BA in psychology from Smith College and an MBA from New York University's Stern School of Business. She has also previously served on the Young Professionals Network for Open Hands Legal Services and the Leadership Council for the Beginning with Children Foundation.

Lesley Loor

Associate Director of Student Growth

Lesley Loor

Associate Director of Student Growth

A proud Bronx native, Lesley has utilized her experiences growing up in a low-income household to encourage young people in spite of the hurdles they face. She graduated from Barnard College in 2011, earning a Bachelor's in Urban Studies with a concentration in Sociology. Soon after graduation, Lesley worked full time at a local non-profit in the South Bronx where she counseled, trained, and mentored at-risk youth for two years. Looking to increase the positive impact she had in low-income communities and gain the skills to become an effective non-profit leader, Lesley decided to return to school in 2015 and earned her Master's in Public Administration two years later from the Marxe School of Public and International Affairs at Baruch College. Prior to joining TEAK in October 2018, Lesley worked for nearly five years at The New York Public Library. During her tenure at the Library, she developed and implemented teen programming and managed the logistics of a site-wide STEM-based after-school program. In her spare time, Lesley performs community service, reads, spends time with her family, and searches for deals for her next international vacation!

Megan Aguirre

Assistant Director of Admissions

Megan Aguirre

Assistant Director of Admissions

Born and raised in Queens, Megan is a proud alum of NYC public schools. She attended the University at Buffalo through the Educational Opportunity Program (EOP) where she earned her BA in Psychology with double minors in Latin American studies and Theatre Arts. Her passion for supporting students began when she interned at Florida International University in their Summer Treatment Program providing behavioral therapy to children in pre-k. Continuing her work with children, Megan served as a Parent Coordinator at Harlem Prep Elementary before transitioning to Higher Education with a position at Cornell University. She earned her MSEd in Higher Education Administration from Baruch College in 2019 focusing on student college access programs and resources primarily for first-generation and low-income students. She is excited to be at TEAK and play a part in supporting students! In her spare time, Megan likes to read, eat salt and vinegar chips, listen to podcasts, and scroll through twitter.

Zaris Mota

Associate Director of Technology and Assistant Director of Student Growth

Zaris Mota

Associate Director of Technology and Assistant Director of Student Growth

Zaris recently graduated from the Macaulay Honors College at Baruch where she earned her Bachelors of Science in Public Affairs with a concentration in Nonprofit Administration. Her passion for educational access and socioeconomic equity led her to begin interning with the TEAK Fellowship in 2015. Since joining the team, she has worked significantly with the admissions and development departments, helping to implement more specific measures of success and better systems for data tracking. She is excited to work with TEAK full-time and to support the students as they work towards their goals. In her free time, she enjoys playing games and binge-watching Netflix.

JanCarlos Pinales

Admissions Counselor

JanCarlos Pinales

Admissions Counselor

Born and raised in the Bronx, JanCarlos has utilized his passion for social justice to motivate and invigorate students despite their struggles. JanCarlos' life changed after joining TEAK's thirteenth class, where he saw the importance of equal education no matter one's differences. JanCarlos recently graduated from Wesleyan University where he earned his Bachelor of Arts in Political Science with a concentration in Comparative Politics. While there, he became a Mellon Mays Fellow and was able to conduct research on 1970s Bronx hip hop culture, and question how hip hop served as an artistic response to living in a necropolitical environment. He spent every summer of college conducting archival research through internships in New York City, Capetown, South Africa, and Amsterdam, Netherlands. In his free time, JanCarlos has a passion for dance. Throughout his college years he was the president of two dance teams and now actively takes dance classes. Joining the TEAK family has been a full circle for JanCarlos and he cannot wait to learn and grow alongside his colleagues.

.

Tara Reed

Director of Development and Communications

Tara Reed

Director of Development and Communications

Tara graduated from Franklin & Marshall College in 2008 with a Bachelor's degree in English Literature. After graduating, she worked as a public relations assistant at Benetton USA Group in NYC where she worked with fashion editors and managed the United Colors of Benetton collections. Looking for a career change and impactful work, Tara made her move into the non-profit world and started working for the West Side YMCA as a Development Associate in 2011. In 2014, she moved to London for an internship with the UN Refugee Agency (UNHCR) as a Corporate Relations intern working with the Leadership Giving Team in Private Sector Giving.  While in London, she completed her Master's Thesis and returned to NYU in the Spring of 2015 to graduate with her Masters in Fundraising. In the Summer of 2015, Tara returned to the YMCA as the Director of Development and Communications at the Prospect Park YMCA. Her passion for youth development and education led Tara to join TEAK in 2017. She enjoys traveling with her husband, cooking, yoga, and watching cat videos.

Bernadette Sarlo

Director of High School Placement

Bernadette Sarlo

Director of High School Placement

Bernadette is a proud NJ native who began her career in educational access at New Jersey SEEDS in 2008. While at NJ SEEDS, she completed her College Counseling certification from the University of California - San Diego. In 2015, she went on to work at George Jackson Academy, an independent middle school for talented low-income boys. When she is not working with students to find educational opportunities, she loves to travel with family and friends.  She is excited to reunite with John Green, who was her Head of School many, many years ago at the Peddie School. After graduating from Peddie, Bernadette went on to attend Colgate University. 

Wyndy Sloan

Deputy Director of External Relations

Wyndy Sloan

Deputy Director of External Relations

After graduating from the University of Texas at Austin with a degree in advertising, Wyndy moved to New York to pursue her dream of living in the big city and pursuing a career in the creative industry. After spending several years at leading fashion and entertainment magazines, she joined The Sloan Group where she spent 10 years as the creative director, leading an award-winning team of talented creatives working primarily for clients in the youth and entertainment industries. In 2008, looking for a new and rewarding challenge, Wyndy began her career in the nonprofit sector working at Madison Square Boys & Girls Club as the Director of Marketing and Communications then at the West Side YMCA as the Senior Director of Fund Development, Communications and Membership. Wyndy's passion for helping young people reach their full potential led her to join TEAK in 2015. She enjoys spending time with her husband and three kids, playing tennis and seeing the world.
Join Our Team
Current Openings