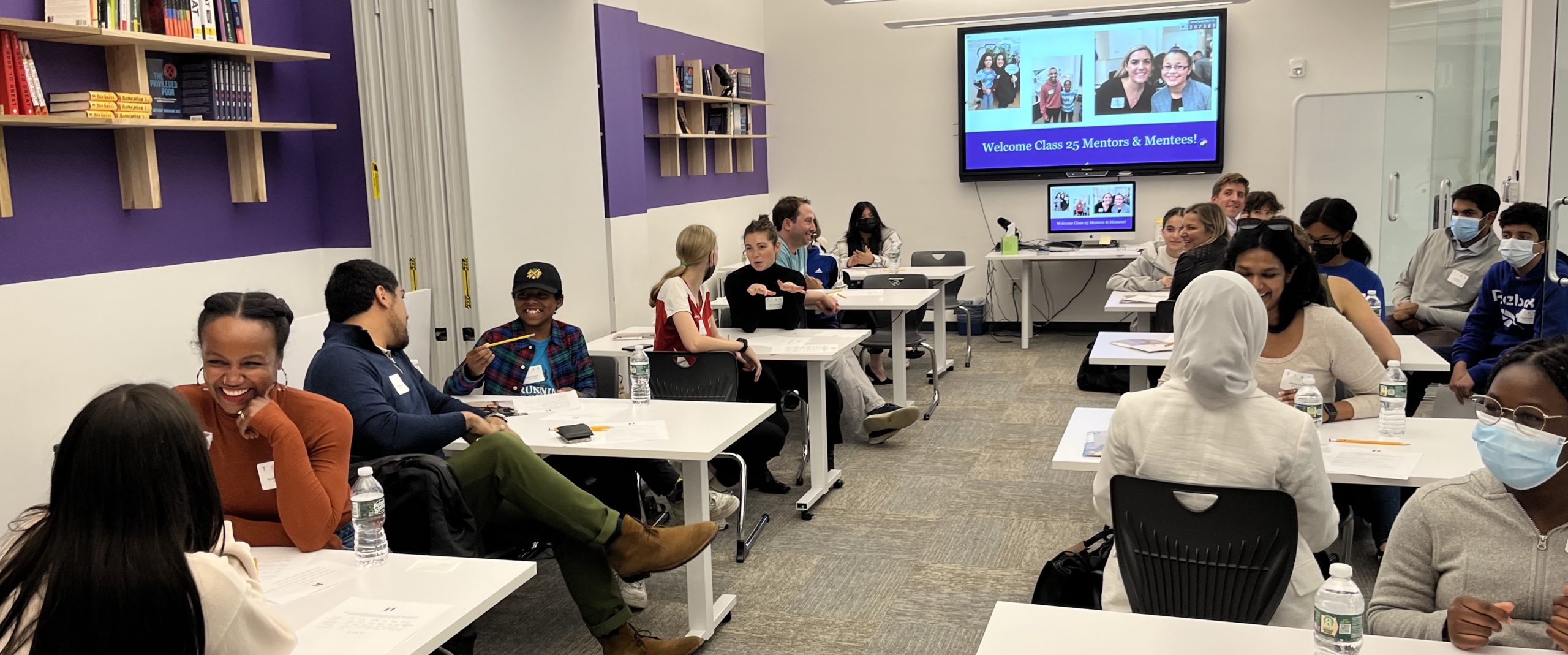 Thank you for your interest in becoming a TEAK Mentor! The TEAK Mentor Program is a two-year commitment beginning in the fall. Our 2023 application cycle has closed, but we are accepting applications for fall 2024 at the link below. In addition to the application form, all applicants are required to attend a virtual information session. Information sessions will be scheduled in early 2024.
If you have any questions or would like to learn more, please contact Maggie Riehl at [email protected].
Apply to be a mentor
What is the TEAK Mentor Program?
---
The Mentor Program provides each TEAK Fellow with a volunteer Mentor who serves as a positive role model, listener, advocate, and friend. Often, TEAK Fellows are the children of immigrants and/or the first generation in their families to be on a college track. It is imperative that these students widen their network of support and be exposed to various adults who can provide perspectives on high school, college, and career paths.
When does the Mentor Program begin and end?
---
Students are matched with a Mentor in the fall of their seventh-grade year, with the official "Matching Ceremony" taking place in the fall. TEAK hopes to foster long-term and consistent relationships and, therefore, asks Mentors to commit to maintaining the mentorship with Fellows throughout middle school. Successful mentoring relationships are ones in which both parties take responsibility for making it work.
Unfortunately, there is no guarantee that all applicants will be matched with a Fellow. Prospective Mentors who are not matched in the year in which they apply will be placed at the top of the Prospective Mentor list for the following year.
What are the expectations of the Mentor?
---
Mentors must have a college degree and be at least 2 years out of college, in alignment with the organization's goal of higher education for its students. Each Mentor should see his/her student at least six times during the year and contact the student at least twice a month via email or phone. TEAK asks that Mentors incur the costs of any events or excursions that they choose to participate in with their students. Mentors should obtain permission from parents for all outings.
What are the expectations of the student?
---
Students are expected to be open and be in frequent communication with his/her Mentor. Students are also expected to respect the mentor/mentee relationship by being punctual, polite, and showing a willingness to try new things. Students should not expect or ask for gifts from their Mentors.
What are the expectations of the Parent or Guardian?
---
Parents must attend the first meeting between Mentors and Fellows (the Mentor/Fellow Match Day). As the students are entering the relationship as a minor, the relationship cannot begin unless the parent approves of the match. Parents must also be informed of and approve all outings the student has with their mentor. Parents are expected to communicate with TEAK staff and the mentor if there are any concerns regarding the relationship.
What are some common Mentor/Fellow activities?
---
A Mentor/Fellow activity does not have to be an expensive event. Mentors can use their creativity, personal experiences, and shared interests with the Fellow to help plan for the time together. Mentor/Fellow activities could include: going to a museum, seeing a play, playing a sport together, seeing a movie, taking a walk in the park, or sharing a meal together. TEAK also holds Mentor/Fellow events several times during the year to provide a venue for Mentors and Fellows to interact in larger groups.
TEAK organizes various Mentor/Mentee outings and events throughout the year. Some examples of previous outings include game nights, museum visits, Big Apple Circus trips, and sporting events.