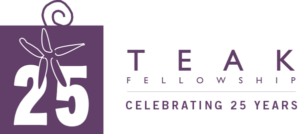 The TEAK Fellowship opened its doors on February 1, 1998 to 22 motivated and exceptional 7th grade students. Today, we celebrate the organization's 25th anniversary! Over the past quarter century, TEAK has served over 600 New York City youth, empowering them to reach their full potential, regardless of economic circumstances.
As we embark on our twenty-fifth year, we are deeply grateful to everyone who has supported us along the way and proud of all that our Fellows, families, staff, and community have accomplished together.
We look forward to celebrating TEAK's 25th year together and charting a course forward for the next 25. Be on the lookout for details about our 25th Anniversary Gala, taking place in October 2023. Thank you!
Since 1998…




… and countless memories!