U Streat Comedy X TEAK
Non-Prophets Podcast, March 23 at 6:30 PM EST
On March 23rd, Dan Blednick, Director of College Guidance, and Dr. Oyé Carr, Senior Director of Middle School Academy, went on the Non-Prophets podcast to discuss TEAKs work in educational access in NYC. Non-Prophets is a weekly podcast by U Streat Comedy hosted by Stephen Campbell (Insomniac Events) and Franqi French (Winner of Standup NBC, and Variety's Top Ten Comics to Watch). They work with nonprofit leaders every Tuesday to shine light on serious social issues in a comedic way, and give actionable insight into how to support organizations that are alleviating those issues.
Listen to the episode here.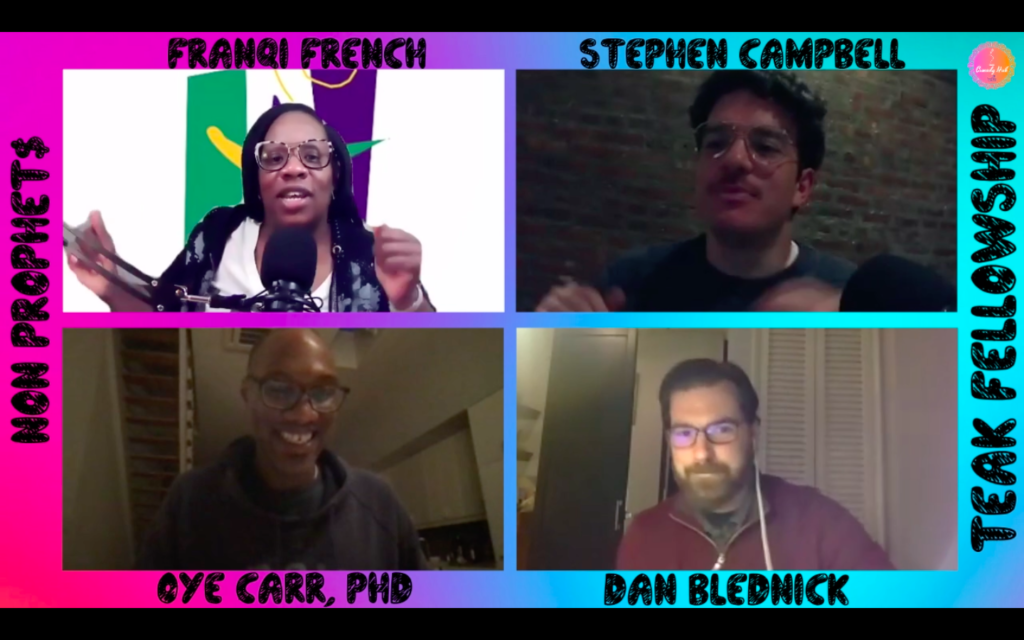 Comedy Showcase, March 28th at 7:30 PM EST
On March 28th, Non-Prophets Podcast hosted a virtual comedy showcase to support charities that provide educational access in New York City, including TEAK, Breakthrough NYC, and America Needs You. We raised $6,050 to support TEAK Fellows! Thank you to everyone who contributed and the comedians who participated (listed below). If you would like to make a donation, please visit https://bit.ly/3kNDitP.
In case you missed the live show, you can view it here:
Comic Line-up:
Stephen Campbell is the owner of U Streat Comedy, and (in a past life) a regular performer at music festivals like Coachella, and Insomniac Events. He co-hosts the Non-Prophets Podcast, which highlights the good works nonprofits are doing in a comedic way!  
Franqi French – Franqi is the co-host of the show and the Non Prophets Podcast, and the winner of Standup NBC in 2019. She was also voted Variety's Top Ten Comics to Watch in 2020. 
Here is a clip of her set about vegan Mac and Cheese. 
Mike E Winfield – Mike was a recurring character on The Office, has performed on Netflix, and has an Amazon Prime Special called "Step-Man." Mike is a fixture in the LA comedy scene and has been steadily rising since he won Standup NBC in 2018. 
Here is a clip of his set from his special.
Jared Waters – Jared is one of the best up and coming comics in New York City, and you are sure to be hearing his name a whole lot more in the upcoming year. 
Natalie McGill – You've seen her on  2 Dope Queens podcast, and as a news correspondent on Redacted Tonight.