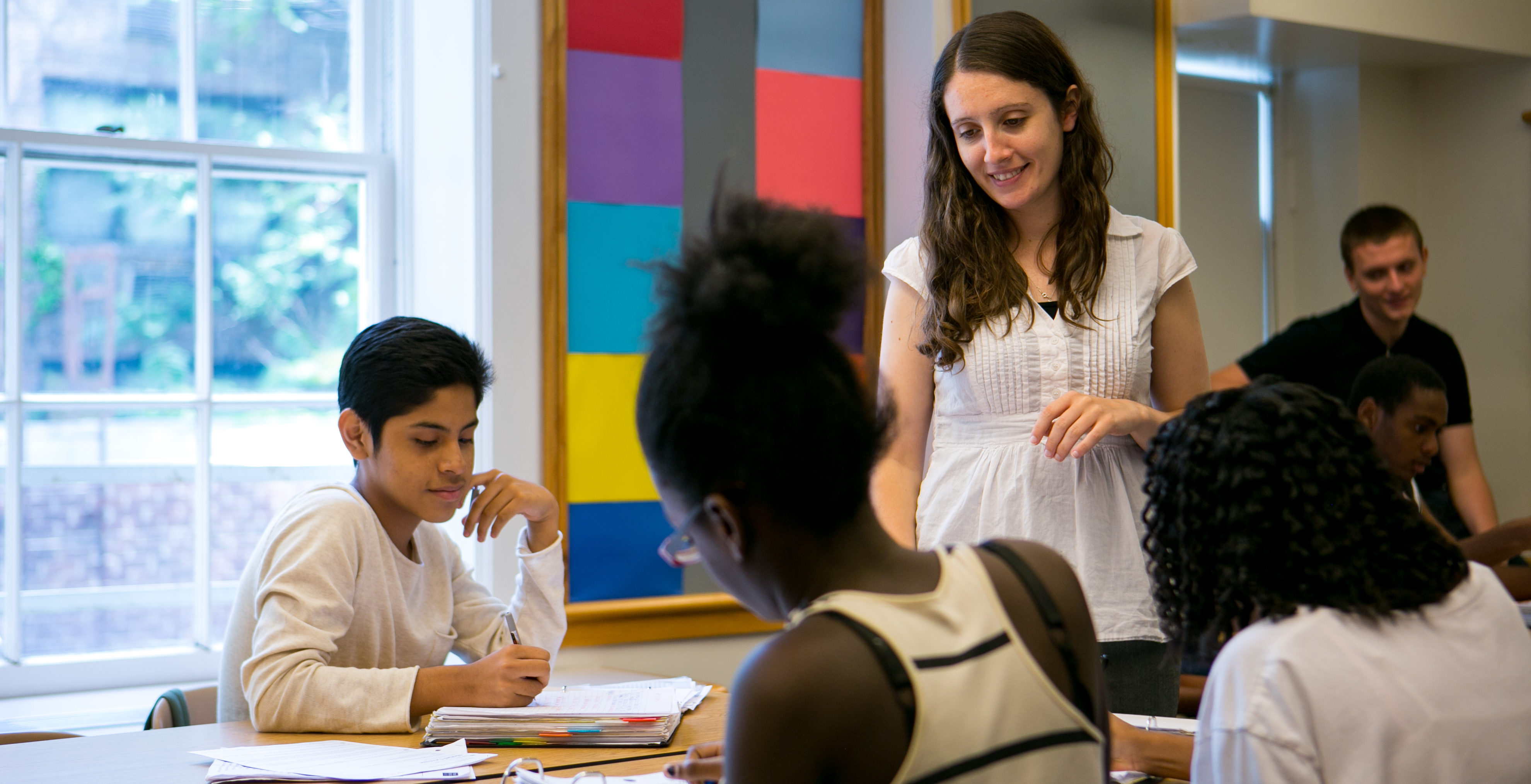 Summer Institute Teachers and Guest Speakers
 2017 Summer Institute Staff Bios
English with Katie Deutsch
---
Katie Deutsch teaches literature and philosophy at New York University and is an Associate Scholar of Comparative Literature at Harvard University. Katie received her PhD in Comparative Literature from Harvard in May 2015; her doctoral research focused on Ancient Greek, English, and German literature and philosophy. She also holds an MPhil in English from Cambridge University and a BA in Classics from Amherst College. Katie taught hundreds of students as a Teaching Fellow and Literature Tutor at Harvard, from 2008 to 2015. In 2013-14 she worked as a Lecturer at Northeastern University, teaching Ancient Greek civilization. Katie grew up in New York City and graduated from Hunter College High School, where she later taught as a substitute teacher. She tutors students of all ages in New York City.  
Science with Tracy Fuad
---
Tracy Fuad is a writer and educator from Minnesota and a graduate of Northwestern University, where she studied political science. She has a Master's in Teaching and for the past ten years has taught writing, science, and social justice to students in New York City, as well as multimedia journalism to teenagers in Turkey and Iraq. Her writing has appeared in two dozen publications and has been nominated for a pushcart prize, and she is currently an MFA candidate at Rutgers-Newark, where she also teaches composition.  
History with Sara Jasnow
---
Sara Jasnow graduated from Barnard College, where she studied English and Film. She has been teaching since 2010 and was a New York City Teaching Fellow and earned her M.S. in Special Education from Hunter College. She has taught English, Math, History, and Art to students in NYC public schools in Manhattan and the Bronx. This past spring, she had the wonderful opportunity to teach Math to Class 18. Sara believes that experiential learning best provides students the ability to develop their own sense of academic curiosity.
History with Selah Johnson, Ph. D.
---
Selah Johnson is a history teacher at the Spence School in Manhattan. She is involved in student life, where she organizes the Black History Month program, which is quickly becoming a tradition at Spence. Selah has recently developed a new course as part of the history curriculum entitled, "Freedom Dreams: The African Diaspora & Political Thought in the 20th Century." Previously, she taught undergraduates at UCLA and Santa Monica college, as she completed her Ph.D. in U.S. History at UCLA. She also earned her Master's Degree in American History at UCLA. She is a native of Atlanta, Georgia, where she also graduated from college. She earned her Bachelor of Arts degree in History at Spelman College, where she graduated Magna Cum Laude and Phi Beta Kappa. She is a "Big Sister Mentor" in the Big Brother Big Sister non-profit organization.
Word Up with Sara Nolan
---
Sara Nolan is an educator, writer, and sometimes yoga teacher who has been with TEAK in varying roles for almost 13 years. She co-founded and teaches "Essay Intensive: Write the Essay of Your Life," guiding young people to write personal essays (primarily) for college admissions–with a twist.  She sees, uses and teaches writing as a fundamental tool of self-knowledge and self-awareness, and as a vehicle for growth and efficacy.  When not annoyed about how commas are abused, she hopes to learn from and with her students the kind of place our world can and should be.
Math with Brian Scott
---
Brian Scott is the Chair of the Upper School Math Department at The Berkeley Carroll School in Brooklyn, NY where he also coaches the Cross Country and Track teams. He has degrees in Mathematics from Haverford College and Villanova University and a M.S. in Education from the University of Pennsylvania. In the classroom, Brian encourages the students to work together, discuss the material, and try to discover and prove as much as possible. Math isn't about right and wrong answers; it's about working to understand why and how things relate to each other.
Science with Lisa Scott
---
Lisa Scott is a Brooklyn native who recently graduated from Yale University in 2016 with a Bachelors in the History of Science and Medicine. She is currently a chemistry teacher at the Lawrenceville School and is studying to get her Masters in Teaching from the University of Pennsylvania. As a TEAK alumna (Class 9), she loves coming back to Summer Institute to give back to the community that has made such a positive impact on her life since seventh grade.
Shakespeare with Malik Work
---
Malik Work graduated from Connecticut College with a BA in Theater. He has produced, acted, and directed theater Off-Broadway, as well as written and performed his own one-man show. He is a SAG/AFTRA actor having been featured in film and television, most recently on NBC's Blacklist: Redemption. Malik is also an accomplished voice-over artist, having recorded commercials for HBO, Kellogg's and more. Outside of TEAK, he also teaches Shakespeare and Hip Hop Theater at the National Theater Institute at The Eugene O'Neill Theater Center in CT.
 2017 Summer Institute Speakers
Nick Demeris
---
Nick Demeris is a writer, composer, street performer & professional rule breaker: blending Hip Hop and Shakespeare, beatboxing to Bach and spontaneously inventing genre-bending songs in gibberish. The actor-political-organizer-turned-solo-singing-rapper is always on an expedition for the incredible: starring in Tony-award winning musicals in the finest theatres, improvising with Bobby McFerrin in concert halls, and magically transforming the subway into a recording studio and the audience into his orchestra. He teaches workshops all around the world on Hip Hop & Shakespeare, Monkey Business: how creativity drives corporate innovation.
Dr. Michael Fowlin
---
Dr. Michael Fowlin, better known as Mykee, is no stranger to the stage. He has been formally acting since age 11, but started creating voices (via prank calling) at age 9. In addition to his talents on stage, he has an undergraduate degree in psychology from Evangel University, in Springfield, Missouri, and in the fall of 2001, he earned a doctorate degree in clinical psychology from Rutgers University. Oddly enough, he suffers from delusions of grandeur, for, while performing, he is convinced that every audience member is his patient. His programs combine both his professional acting talents and his psychological training.
David Isay
---
David Avram "Dave" Isay (born December 5, 1965) is an American radio producer and founder of Sound Portraits Productions. He is also the founder of StoryCorps, an ongoing oral history project. He is the recipient of numerous broadcasting honors, including six Peabody Awards and a MacArthur "Genius" Fellowship. He is the author/editor of numerous books that grew out of his public radio documentary work.
Jon Fortt
---
Jon Fortt is co-anchor of CNBC's "Squawk Alley" (M-F, 11AM-12PM ET) broadcast live from the New York Stock Exchange. Previously, he was an on-air editor based at CNBC's global headquarters in Englewood Cliffs, N.J. Fortt joined CNBC as technology correspondent in July 2010, working from CNBC's Silicon Valley bureau where he covered the companies, start-ups and trends that are driving innovation in the industry. He also contributes to CNBC.com.
Walter Grandberry
---
Professional, Accomplished Arts Administrator with significant experience and a rare combination of skills developed through proven, goal driven, pedagogical implementation strategies over a twenty five year period: totally committed to excellence in arts education programming; pragmatic problem-solver; creative program developer; successful collaborator and partnership builder; entrepreneurial minded; team builder and people motivator/developer; accomplished practitioner who consistently achieves multiple professional and business goals.
Senator Evan Bayh
---
American lawyer and Democratic politician who served as the junior U.S. Senator from Indiana from 1999 to 2011. He earlier served as the 46th Governor of Indiana from 1989 to 1997. Bayh first held public office as the Secretary of State of Indiana, elected in 1986. He held the position for only two years before being elected Governor. He left his office after completing two terms and briefly took a job lecturing at Indiana University Bloomington, before being elected to the U.S. Senate seat once held by his father, Birch Bayh.
On February 15, 2010, Bayh unexpectedly announced he would not seek reelection to the Senate in 2010. After leaving the Senate, he was replaced by his predecessor, Dan Coats, and became a partner with the law and lobbying firm McGuireWoods in the firm's Washington, D.C., office, and also became a senior adviser with Apollo Global Management. He was a part-time contributor for Fox News from March 2011 to July 2016. In June 2011 he became a messaging adviser for the U.S. Chamber of Commerce. On October 27, 2011, it was announced that Berry Plastics Corp. had appointed Bayh to its board of directors. Bayh also serves on the board of directors of Marathon Petroleum, the 2011 spin-off from Marathon Oil.
Sapna Maheshwari
---
Sapna Maheshwari is a business reporter covering advertising for The New York Times. She previously covered retail and e-commerce at BuzzFeed News and Bloomberg News, and has contributed to Bloomberg Businessweek. Ms. Maheshwari and a colleague won a Front Page Award from the Newswomen's Club of New York in 2015 for their reporting on the rampant use of on-call shifts at retailers such as Victoria's Secret. The chain and several other major retailers changed their staffing policies after the story ran. She also won a Best in Business award from the Society of American Business Editors and Writers for her story on the dark past of the Silicon Valley start-up JustFab. The story, published in 2015, won in the digital investigations category.
Dylan Marron
---
Dylan Marron is an IFP Gotham Award & Drama Desk-nominated writer, performer, and video maker. He is the voice of Carlos on the hit podcast Welcome to Night Vale, an alum of the New York Neo Futurists, and the creator of Every Single Word (Tumblr's "Most Viral Blog" of 2016; Shorty Award Nominee), a video series that edits down popular films to only feature the words spoken by people of color. He is a writer & correspondent at Seriously.tv, where he created Sitting in Bathrooms with Trans People, Shutting Down Bullsh*t, and the Unboxing series.